Ready for a Vacation? It's Panama Beach Time!
Panama City Beach Vacation Rentals: (850) 708-1429
Whispering Seas 309-Gulf-front, 2BR/2BA-Sleeps 8; 3rd Floor; Balcony; Kitchen; W/D
PHOTOS

DETAILS

CALENDAR

REVIEWS
Whispering Seas 309 is a beautiful Gulf-front 2BR/2BA condo that sleeps 8, with a Queen Bed in the beach-side master bedroom with great Gulf views and two Queen beds in the guest bedroom and a sleeper sofa in the living room. Fully equipped kitchen. Gulf-front Balcony; Full-size Washer/Dryer Combo; Wi-Fi.
Whispering Seas 309 is a beautifully furnished and recently renovated and refurbished Gulf-front condo that comfortably sleeps 8. This unit matches large rooms with space for everyone with great 3rd floor Gulf views and the convenience of a large washer/dryer in the guest bedroom. You'll love the gorgeous new flooring! Your family won't need to fight over what to watch. There's a TV with DVD/VCR combo in both bedrooms as well as the living room. The kids can stay entertained with their DVDs and Dad can watch the game or the race. Unit 309 is on the corner of the third floor, so your views of the beach and the Gulf are spectacular, particularly from the Gulf-front bedroom. You're on Panama Beach Time -- sleep in and enjoy the view of the beach! Whispering Seas 309 has plenty of room for everyone in the family, so you can relax, get yourself on Panama Beach Time and start making those Panama City Beach vacation memories.
Whispering Seas 309 has a Queen Bed in the Gulf-front bedroom with great views of the beach. And there are 2 Queen Beds in the guest bedroom and a Queen sleeper in the living room. Whispering Seas 309 can comfortably sleep up to 8. The fully equipped kitchen has been recently re-done and lets you save money and enjoy your family favorites and the fresh Gulf seafood. Or you can grill up some burgers and hot dogs or today's fresh catch from the surf on our Gulf-front terrace. Then when it's time to eat, you can dine in the condo at the dining table and breakfast bar, or on the balcony at the bar-height patio furniture, or down on the terrace. Wherever you choose, you'll have a beautiful beach view. It's Panama Beach Time! All of our units are non-smoking. Please smoke outside of your condo.
Don't fight the crowds in a high-rise! Whispering Seas is a low-rise, family-friendly Gulf-front beach resort, with a pool right on the beach, a Gulf-front terrace with 4 grills and 4 picnic tables, and free Wi-Fi.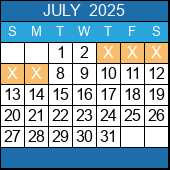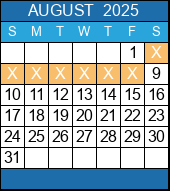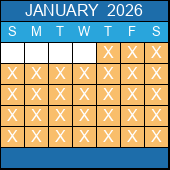 "This place is just as described. Definitely big enough for a family of 5 with 3 teenagers. Two bedrooms and more importantly two bathrooms! It's a quiet/family location but still close to everything PCB has to offer. We would definitely stay here again."--Jeff, July 2017
"It was better than I thought, it is a really nice place to stay"--Blanca, July 2017
"Great location, family friend and quick response time to anything needed. Would stay here again."--Alexis, July 2017
"We absolutely loved our stay here! It was clean and the location was perfect. Close to everything and the access to the beach well exceeded our expectations."--Chistina, July 2017
"Perfect stay , well priced ..... well communicated"--Mohammed, July 2017
"Great location. Plenty of space for two bedroom."--Yohannes, June 2017
"This place is very close to the beach and has a really nice view."--Carlos, June 2017
"Great place & right by the beach ! Loved it !"--Rosa, May 2017
"It was a great place to stay with a beach view."--Shivakanth, May 2017
"Beautiful view of the beach!"--Krystal, April 2017
"Location was excellent! Small quiet complex right on the beach! Couldn't have asked for a better place for the price! The condo was a little dated but was super clean and much larger than the photos portrayed. I will definitely stay here again!"--Tina, April 2017
"We enjoyed our visit to Panama City. The place is clean and everything is near by. The best part is the ocean view."--Erick, April 2017
"Great time, second year in a row. Great location."--Jose Maria, April 2017
"Great views and quiet despite being Spring Break"--Katherine, March 2017
"This is a BEAUTIFUL PLACE ON THE BEACH and super clean!! The beds were comfy and I had no complaints. Will stay here again next time I'm in town."--Jessie, March 2017
"Second trip this season and same as last time. Awesome communication and location. Had to arrange a late check in and there was absolutely no problem with that."--Lee, August 2016
"The listing description was accurate, everything was clean when we arrived, the lady at the office was very helpful as well. The condo was great, although the weather was terrible we still had a good time"--Francis, August 2016
"We wanted a short getaway with teenaged girls on the beach with a pool and this condo was perfect for us. Pool area is well maintained and there were beach cabanas available for rent ($25 for the day!) right in front of the condo. This is an older property but is a great no frills place to stay. We will be back!"--Brenda, August 2016
"The views and proximity to beach and ocean was perfect. Especially with kids. Loved the pool area with deck and picnic areas. And that you could rent chairs and umbrella on the beach. The code lock was great with kids. No need to worry about keys. Close proximity to restaurants and fun places but quiet and set back off main road. Loved the smaller size of this condo group. No high rises to deal with. Never had to fight for a spot at pool or beach. We would definitely stay again."--Cheryl, June 2016
"The staff is an excellent. Very friendly, welcoming staff. The condo is a dream! Would absolutely stay again. The beach area is not crowded and it is clean. Very pleased with the whole Panama Beach Time experience."--Tammy, June 2016
"When me and my husband checked in Billy was awesome, he answered all our questions and suggested a lot of different things to do in the area. The condo is exactly as described, it was very clean, quite and nice and the view of the ocean was amazing! We only had one problem with our door code upon arriving but that was fixed immediately We will most defiantly stay here on out next visit! Many thanks!!"--Penny, May 2016
"Awesome communication throughout. Fantastic location and the accommodations were as advertised. Kitchen was well stocked with cooking utensils, cups, plates and silverware. Great place to stay!!"--Lee, May 2016
"Wonder location and easy check in process."--Arun, May 2016
"Condo was clean. Easy check in and check out."--Burt, April 2016
"The staff were great! The place was larger than we expected and was clean and well stocked with what we needed. I would stay again!"--Taylor, April 2016
"Everything was as it was described. The view was gorgeous. Unfortunately during most of our stay it was raining so we were fortunate enough that the hotel was close to many other attractions. The unit was beach side and had a wonderful stay."--Haibo, March 2016
"We had a fantastic time at this property. The staff made sure I had directions to the office and reached out on our day of arrival to make sure someone would be at the office when we arrived in town. The property was extremely clean, and we loved waking to the sights and sounds of the beach. Super-relaxing trip, would go back in a heartbeat! The process of checking in and out was stressfree. They were very friendly and we felt well-taken care of."--Brodie, March 2016
"We ended up booking this condo at the last minute but the staff was very accommodating. We arrived after the check in time but they provided a very easy way to access our condo. The condo had a very family friendly atmosphere and beach access. The condo itself had a porch overlooking the beach as well as a view of the beach from master bedroom, which was very nice. We had an excellent time and would definitely stay here again."--Amelia, March 2016
"Check in process was very easy and the apt was really nice. Definitely recommend to anyone looking to stay on the beach."--Alex, February 2016
"We were at panama city during thanksgiving days and was looking for a place to relax and the apartment seems to be the exact place for us. It was clean and sea facing apartment with all the cooking amenities and anything else you can expect. We were getting late on Thursday evening since we were driving and the staff was great enough to provide us with all we need even in the late hours. The place seems to be calm and family friendly. We loved the stay and would definitely be back..."--Rakesh, December 2015
"This property is accurately represented in the listing, and was actually much larger than we expected. It was the perfect weekend getaway, and although it was just the two of us, the condo could easily accommodate our four kids and/or a few additional friends. The atmosphere could not be more perfect, and we absolutely loved waking up directly on the beach. The balcony is cozy and private, and we found it to be the perfect location for enjoying an adult beverage while watching the sunset. Moreover, the staff was an excellent! We drove into PCB after work on a Friday night, so the office was closed, but everything was pre-coordinated and well-prepared with minimal effort on our part. Parking passes, receipt, and useful information were all waiting for us when we walked in. The keypad entry is incredibly convenient, as we never had to worry about lost keys or lockouts. I HIGHLY recommend this place for anyone looking for affordable beachfront accomodations, and a memorable experience. We had a wonderfully memorable weekend, thanks to the staff and the perfectly located property. Thanks!!!"--Cody, August 2015
"Great place."--David, August 2015
"We have a great time in Panama City Beach. Wonderful apartment, very spacious, comfortable and the most important thing: just steps from a beautiful beach. Everything was perfect, clean and very organized. Highly recommended. We stayed with 2 kids and they had great time here, very family friendly. Close to shops and restaurants. Quiet and relaxing."--Carolina and Juan, June 2015
Please read our reviews of Whispering Seas to learn more about the quality accomodations and our pride in customer service.